Playford Alive Initiatives Fund Grants Awarded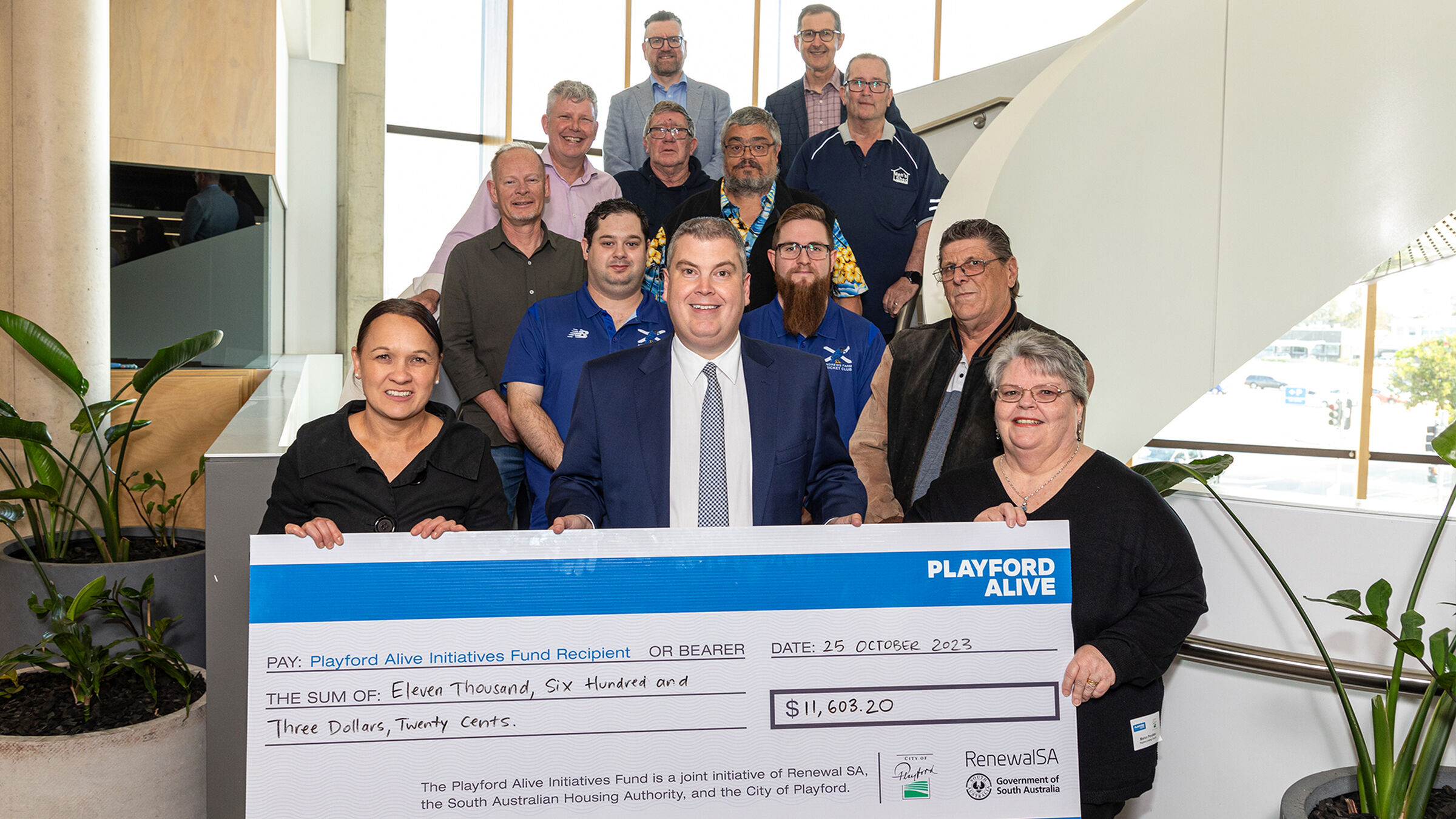 More than $11,000 has been awarded to four community organisations at Playford Alive as part of this year's Playford Alive Initiatives Fund (PAIF) annual grant round.
Established in 2009, the Playford Alive Initiatives Fund awards grants to organisations making a positive impact in the local community.
With help from our partners – Renewal SA, The City of Playford and SA Housing Authority – the PAIF has distributed nearly $800,000 towards projects that are beneficial to the community.
This year's grant recipients include:
Playford Uniting Church
The Playford Uniting Church has been successful in securing funding to help stage its annual WonderFULL Christmas Festival, a popular event in the Playford Alive area.
The festival has been a success for many years and is one of the major community projects the Playford Uniting Church takes on each year.
The WonderFULL Christmas Festival is a free event for families to gather and enjoy good food, music and festive activities.
With only two months left until Christmas, preparations are ramping up for this year's festival which promises to be another big hit.
Community Matters Playford Inc
Community Matters Playford Inc has received a grant for $600 to help increase its presence in the community.
Established in 2020, Community Matters Playford Inc acts as a collective voice for the community when dealing with issues that directly impact residents.
They put forward views or concerns to key bodies like the City of Playford Council in a bid to get the best outcome for the community.
"There are a lot of people that don't know how to submit grant requests, so what we do is tell people about the opportunities that are available and help them secure those grants," Shaun Barby of Community Matters Playford Inc said.
The funding secured in this year's round of grants will be put towards admin supplies including a printer so they can better engage with the community via public notices and encourage residents to have their say at events such as 'Meet Your Neighbours', which bring them together with local councillors and MPs.
Andrews Farm Soccer & Community Club
The Andrews Farm Soccer & Community Club's (AFSCC) new cricket teams will benefit from additional funding that will provide helmets, caps, pads and gloves for its players.
Formed last year following an amalgamation with the Andrews Farm Cricket Club, the new club has added two male teams and a female team this season that need protective equipment.
The club aims to create a community-focused space for people of all ages and abilities to participate and join in the fun.
Secretary and vice-captain of the A-grade cricket team, Alex May, is a driving force behind the club's push to be a community hub.
"We are keen to make the club a place for people and families to gather and feel part of the community, even if they aren't interested in sport," Mr May said.
"We are growing all the time and this funding really helps to keep up with that growth and provide the equipment that everyone needs."
Based at Kalara Reserve, and with a majority of its members residing in the Playford Alive area, the Andrews Farm Cricket Club plays a crucial role in fostering a healthy lifestyle in the local area.
Playford Men's Shed
The Playford Men's Shed has been awarded a grant to purchase storage facilities that will make better use of their workshop.
Since 2014 the Playford Men's Shed has provided a safe place for men to gather and seek support.
The group fosters improved mental health and wellbeing outcomes in the community by leading personal and community projects, fundraising barbecues, games, lunches and social outings.
"This funding will allow us to buy some compactors that will allow us to condense our workshop and buy timber and store it in dry conditions," John Quinn from Playford Men's Shed said.
"Hopefully we can continue to keep growing like most men's sheds do and put ourselves out there for the benefit of the community, especially the guys that are struggling with mental health."
The Playford Alive Initiatives Fund allocates $25,000 in grant funding per annum – $15,000 of which is distributed through an annual call.
Grants of less than $1,000 are open all year round.